Kayak rental in Vilnius – Easy kayaking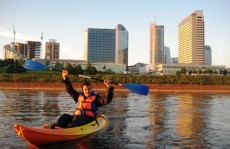 Kayak rental Neris we try each, both experienced canoeists both beginner tourist. Kayak rentals Neris great attraction for you and your friends! It's hard to even describe how beautiful landscapes seen sailing canoes worrying too Verkiai Regional Park: beautiful cliffs, lush coastline, sharp river bends. Revenue in Vilnius, Lithuania's capital with stunning views sculptures adorned bridges, verdant capital of the coast. It's nice and easy voyage, during which you only need to relax and forget everyday worries. The fun we try all citizens and guests of Vilnius. This is a great opportunity to relax from the daily routine and spend half a day or all day iriantis canoe through the mother river Neris in Lithuania.
About swimming organization
Kayak rentals in Vilnius – Peaceful Swimming Neris in Vilnius. Meeting point at the helicopter landing area (next to the Forum Palace parking lot). Upset into vans and driven to the starting place for swimming (Verkiai Mill or Ožkiniai). There we provide inventory, and briefly introduce the passage and give instructions. End Swimming about 150m. after white bridge, on the right bank of the Neris quay side (where concrete quay ends). The meeting place easy to get your own car, you can leave FORUM PALACE parking lot. Public transport stops from Konstitucijos Avenue or the green bridge and take walk for about 5 – 10 min.
meeting point you can find on google maps just search – Kayak rental in Vilnius active tourism.