Kayak rental in Vilnius – Exotic night Vilnius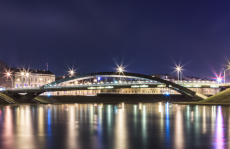 Kayak rentals in Vilnius – Neris night make you feel exotic canoeing here in Vilnius. Imagine, just you two and kayak goes into night silence. Only you two and dusk Vilnius views. Night Vilnius is truly a great and unique entertainment. Kayaking the night will experience a lot more excitement than you can imagine, and entered the night in Vilnius, surely captivate views from kayaking, sometimes even think that boating at Lithuanian river embankment unprecedented beauty and ideal illumine the bridges of kayaking looks like a fairy-tale way in which you are traveling. Ineffable feeling of elevation, visible imagery and unforgettable experience sailing through the night Vilnius. Do not miss the opportunity to try it!
+37061882995 or info@activetourism.lt
About swimming organization
Kayak rentals in Vilnius – Neris Night Swim through Vilnius. Meeting point at the helicopter landing area near Forum Palace (lot flagged so sure and visible from the white bridge and from FORUM PALACE car lot). Upset into vans and driven to the starting place for swimming (Verkiai Mill or Ozhkiniai). There we provide inventory, and briefly introduce the passage and give instructions. End Swimming 150m. for white bridge, on the right bank of the Neris quay side (where concrete quay ends).
The meeting place easy to get your own car, you can leave VCUP parking lot, Forum Palace parking lot or just near the helicopter landing area (all listed in the local free). Public transport stops Lithuania movement path to the Forum Palace, Constitution Avenue at Swedbank'o building, the square at VCUP from Constitution Avenue side of the green bridge and stop Kražiai or Opera and Ballet Theatre A.Goštauto station from the street side.
meeting point you can find on google maps just search – Kayak rental in Vilnius Active tourism.